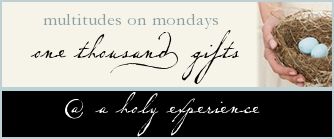 Although I've never met
Ann Voskamp
, her heart for Jesus shines through cyberspace - her blog, her books, her tweets...and she blesses me. This
discipline
or
holy habit
or
awareness,
or whatever you name it...this way of counting grace gifts to one-thousand is a wonder! The consciousness of intentionally seeing God at work all around is uplifting. Some of the gifts are divine and spiritual, some are tangible "things," some are His glorious creation seen around the farm, some are just in my heart, but ALL are from His Hand, Grace.
216. Singing
"I Bless Your Name"
at church with our praise team. I love singing with Melissa, Meredith, Tammy, Megan, Gary, Lou, and Gary R. God is knitting our hearts together more each time we sing.
217. A heart that is healing, sweet victory, answered prayers, awareness of true friends, health, peace of mind - these have been mine in abundance the past few weeks. I am so thankful.
218. Our long-time pastor, Rev. Rastus Salter always talked about how good the "late peaches" are, the Elberta peaches. He was right - they are the best. He passed away in 2005 and is certainly enjoying the fruit of his labors. In the presence of Jesus!
219. An impromptu pizza party with my husband, our boys, their wives and our 3 grandchildren. Sometimes unplanned is more fun. Just "y'all come," and let's get together. And when it ends up that Zeke spends the night, well that is just icing on that sweet cake!
220. Could she be any cuter? This is sweet Miss Madie with her first pigtails. She is talking up a storm and holding her own with big brother Zeke. She and cousin Jackson are precious to watch together.
221. Front porch rocking chairs, hummingbirds zooming by, and long talks with my sweet husband. We always say to each other, "
it just doesn't get any better
." I pray we will be blessed to grow old together (Gran Jan & Pop pillows were made by our daughter-in-law Erin!) I love that man. I love to hear people speak of his integrity... and I've heard that spoken often these past months, and it blesses me every time!
222. Fig preserves. Delightfully Southern. One of my Dad's sisters (he had eight) taught me how to make them. Aunt Jimmie Lou. Even her double name is delightfully Southern! There is nothing better on a hot buttered biscuit than fig preserves.
223. My moonflower vine has blooms. I can't wait to share the first flowers with you. One of my favorite authors,
Jan Karon
, has a book entitled
The Trellis and the Seed
that is about encouragement...using these wonderful flowers. I grow them from seed each spring and give away all but a few plants to enjoy for myself.
224. I finished the quilt top from the beautiful jelly roll* of batik fabrics. I can't wait to quilt it. *By the way, a "jelly roll" is an entire fabric collection that has been laser cut into 2 and 1/2" strips, then rolled up like a bakery confection and tied with a bow. Each pack contains one 44" long strip of each fabric in the group. I LOVE THEM! The possibilities are endless.
225. Which leads to this...the next quilts I'm planning! I bought a lot of John Deere fabric to make quilts for the boys - the big boys and the little boys!
226. New life on the farm just today - this Monday. A new calf, and three new lambs - one a set of twins...this wee one is but hours old.
227. Twins - the momma is black and white like this baby. These are just a few hours old...
228. Hearing the reports from the mission teams that went to Brazil and to Ukraine from my church. Seeing people I know and love light up and come alive when others are won to Christ - of seeing them "love to tell the story."
229. A letter from my Compassion child, a daughter in Uganda. We wept. I am so thankful to partner with
Compassion International
to sponsor a boy in Colombia, and a girl in Uganda. I so love this ministry.
230. My magnolias are blooming again. I have two trees - they were given to me by the women of our church at the Women's Ministry Christmas Brunch, 2007. I love that!
Blessings to you on this summer Monday,