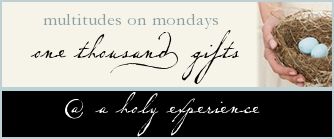 It has been a month since I shared the wonderful story of Caitlyn's conversion. She was baptized a couple of weeks ago and is aglow in her new walk with Christ. We still rejoice in being in the right place to water the seeds others faithfully planted. I am continuing to count His gifts with JOY and
Ann Voskamp
. This counting discipline has affirmed more and more the value of simple things in my life. This simplicity keeps me centered and brings me the most JOY. I don't take them for granted - I am very thankful. It has also reassured me of the purpose of blogging - my way of documenting my simple life - my family, our home, our ministry - all grace gifts and His blessings.
190. Celebrating 34 years of marriage 6/11/77 to 6/11/11! Blessed and spoiled. I love you so much Gary and thank God for bringing us together - high school sweethearts.
191. A blessed productive afternoon spent with two outstanding women's ministry leaders. Cindy, Teresa, and I inventoried our entire Bible study library and put together a spreadsheet. We are ready and geared up to serve the women of our church. God sure blessed me by sending these women to serve alongside. I love them both so much.
192. Attending the wedding of Jordan and Kristin and knowing them both since they were wee ones - that is so special.
193. A sweet little helper in the garden...this is my grandson Jackson.
194. Being released from the ortho doctor after 5 months - I had torn the PCL in my right knee and it is healing beautifully with physical therapy alone. Thank you LORD.
195. Another quilt class called "Take 5." Five fabrics used in every block. This is the class I took where I made the quilt for
Beth Moore
. I received a sweet thank-you note from her day before yesterday. God has used her so much in my life, and I know He is rewarding her in ways that will matter for eternity.
196. Father's Day dinner with ALL my menfolk around the table (the two below in matching shirts for Father's Day): Husband Gary, sons Jeremy & Jonathan, Dad Tom, and grandsons-Zeke & Jackson. Blessed indeed. (Thankful for the women around that table too...)
197. A churchwide picnic with fantastic food, fellowship, fanfare (music), fireworks and FUN. I went by and picked up my grandson Zeke and we had a blast. He was mesmerized with the orchestra. I adore this picture:
198. An antique biscuit cutter that has scalloped edges...and my grandmother's biscuit recipe (in the post right before this one).
199. Blueberry bounty and a little granddaughter who loves them.
200. Another new quilt started with a jellyroll of fabric. A jellyroll is pre-cut strips and these are especially beautiful.
201. It is coming together nicely:
202. My backyard garden, a happy place for me to be (if I'm not in the sewing room). :)
203. I have had the blessing to keep my two older grandchildren for 5 whole days (and nights). My daughter-in-law is away visiting her sister & brother-in-law who serve as missionaries. My son is also staying with us and he has been a wonderful help. It has been good to see him be a daddy up close. I worked so hard to get a picture of them...
204. My youngest grandson and his first trip to the ocean. Delight...
205. Blackberry bounty. My dad's vines. We have had good family time picking these blackberries. Simple things yet again.
206. On this Fourth of July, I'm so thankful and yes, proud - to be an American and live in the greatest country on Earth. Even with all the flaws, I'd still rather live here than anywhere I know. Send a revival to our land dear LORD.
As I wrap up this list, you can see there is nothing as glorious as the salvation of Caitlyn last month, but these are grace gifts all the same. Family time on the farm surrounded by good food and sweet fellowship...and yes at times some tempers and tired folks, but still all GRACE. And I'm so grateful.