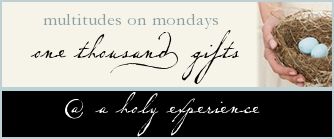 I have had one of the absolute BEST weeks in a long time! It has been very peaceful and quiet - and this wafted over to the same PURE Joy in my spirit - all from Jesus. This JOY will be reflected in my list of counting grace gifts to 1,000:
207. Nowhere to go last week...off work...reconnecting with all things H-O-M-E...stillness.
208. Celebrating my re-birthday this week, the day I became a born again believer in Jesus Christ, on 7-7-85. I'm 26 years old in the LORD, and I wrote my story
here
.
209. Lots of garden time last week and the daily delights of fresh tomatoes.
210. A "sew-in" with my friend Lanie. I had a pattern for a "sewing mate," and we made them together. So peaceful and fun, more JOY. This creation holds all your sewing notions close at hand. The bag on the far right is a little trash container for threads, etc.
211. My son is fishing in Canada this past weekend, and he is so proud of this Walleye, the biggest catch at the Lodge this summer. He is a JOY to my heart.
212. On my backroad drive to go to my friend's for our sew-in, I saw this hay bale. I loved it and was reminded to pray for my friend Beth Moore as she wraps up her study on the book of James. The other side of the bale said "James 5:16."
213. Plans are being made for a baby shower in a few weeks, and I'm one of the hostesses. The baby girl we are celebrating will be born into a family of strong women of faith and she will mark the Fourth Generation! I sure love y'all - Mrs. Mary (great-grandmother), Pat (grandmom), Pam (great Aunt), Jennifer (mom-to-be), Lindsey (aunt), Allison (aunt), Stephanie (aunt), and little miss Taylor Kate (baby girl due in August). The joy of long-time friends from serving in one church for over 23 years...PRICELESS!
214. My mom and I spent most of Saturday morning painting our front gates...the fellowship was so good and I really did enjoy spending that time with her.
214. The reference of
Habakkuk 3:17-19
has come to me from many sources the past month. Again this morning while listening to
David Jeremiah
and his new series entitled "The Joy of Encouragement." He did.
215. My daughter-in-law Erin saw this bookrack in a magazine and that smart girl duplicated it! Her Dad made the rack and I sewed the fabric that made the "shelves." Jackson loves it - he loves books. So did his daddy.
Counting my blessings, naming them one by one - all the way to one thousand!