MULTITUDE MONDAYS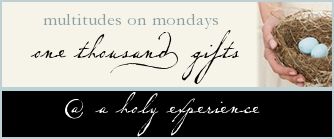 This sweet discipline of counting the gifts of grace is precious and priceless. Thank you for indulging me as I once again list graces of the past week. Yes, as
Ann Voskamp
says, all is grace...

99. A surprise gift from my sweet husband just for me. Yes, this is a garden TILLER! I have wanted one for a long time to support my gardening passion. It is the perfect size for me to use.
100. The SUPERMOON of this past Saturday night!
Beth Moore
posted this picture on Twitter and it was absolutely the BEST picture of the night. What a great Creator God! I kept going outside every few minutes to enjoy God's handiwork.
101. A swing for my littlest grandboy...Jackson. My son and his wife were "testing it out" prior to hanging it outside. They are sure enjoying this little boy. Guess what? He has 2 grandmothers, 4 great-grandmothers, 2 grandfathers, and 2 great-grandfathers!
102. My husband grilled porkchops for us all this past Saturday - great weather and a delicious meal with the family.
103. Zeke drove his John Deere tractor next door to make a special delivery of buttermilk to my father, his Papaw. He LOVES this tractor!
104. This double rainbow appeared as the family was leaving the cemetery after the burial of two sisters who died last week. It was seen for miles and miles...this is in my front yard. Thank God for His precious promises. We are still praying for the Sullivent family in their grief.
105.Today is my Mom's birthday, I am so thankful for her life. She is a strong woman from a generation of self-sacrificing women, a good wife and mother. She took care of my sisters and I while my Dad was in Vietnam; gone for 13 months at a time on two occasions - all this before the days of Skype and email and internet...a strong woman of faith. I love her! Happy Birthday Mom! 
106. My daughter-in-law sent me this picture of Madie Ruth via text last week. This little girl has won our hearts! She and Zeke have 2 grandmothers, 2 great-grandmothers, 2 grandfathers and 2 greatgrandfathers. Blessed indeed.
107. My favorite Easter candy...Starburst Jelly Beans! I am not a fan of chocolate (truly). But I love jelly beans :) These are sitting on my desk at work. They are "hard to get into" which is a good thing...because did I mention they are my favorite?
108. A conversation this past Wednesday night after Bible study with long-time friends that lingered long. Cindy, Jean, Joy...thank you! Pure therapy for our hearts and souls. God be praised!
109. A letter in the mail from each of the children we sponsor through
Compassion International
. The joy of seeing that "
letter from your sponsored child
" envelope in my mailbox is overwhelming.
110. The joy of the truth of
2 Corinthians 12:9
settling over my heart and soul last night after a message by Dr. Ron Lynch (guest preacher at my church yesterday) gave me such hope. Our God is Greater!
But he said to me, "My grace is sufficient for you,
for my power is made perfect in weakness."
Therefore I will boast all the more gladly of my weaknesses,
so that the power of Christ may rest upon me.
(2 Corinthians 12:9)