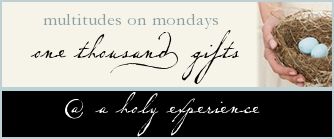 My heart is so full of JOY from counting blessings, the wonderful Grace of Jesus! Thanking Him today for this Multitude Monday, a rare and peaceful day off from work, a restful day.
270. A new season of Fall Bible study begins tomorrow and a kickoff brunch was held 2 weeks ago with lots of women attending - excited about studying God's Word.
271. Two littlest grandchildren sliding down slides...they are strong and healthy and I am so thankful.
272. A pretty little cat has taken up at the farm...I hope she stays...outside for sure! :)
273. My daughter-in-law Carrie sent a video of grandson Zeke singing a song he wrote, "Every Day We Go to Church..." I've watched it dozens of times. So thankful she shared it with me!
274. Another video sent to me by my son of Zeke asking "Gran Jan, can I spend the night with you? I really want to..."
275. Zeke spending the night...pizza, popcorn and Charlotte's Web... I really wanted him to!
276. Celebrating my son's 30th birthday last Monday with
this post.
Lots of memories of a fine son. God's Grace multiplied.
277. Thankful for Jeremy's wife, who also celebrated a birthday last week...she is a gift to our family.
279. My two sweet daughters-in-law blowing bubbles for the babies after lunch. They are both so tall and thin...beautiful...one blonde, one brunette, both long prayed for...
280. Three sweet grandbabies chasing those bubbles...it just doesn't get any sweeter!
281. My daughter-in-law Erin worked so HARD to get a picture of these 3...it is nigh impossible...but I love her for trying!
282. Chocolate-face Jackson...eating his momma's mini cupcakes!
283. A pot of chili simmering on the stove all day on this wonderful Monday off from work...my husband said it was the best ever. I love to cook, have I mentioned that? :)
284. More material for more quilts...these are called "Charm Packs," and every square is 5" and represents all the fabric in a particular line. They make quilting fun and easy because all the fabric blends together...the pink butterflies will be for my granddaughter Madie.
285. I finished Erin's quilt and gave it to her two weeks ago. She loved all the colors and I hope she enjoys some long naps this fall and winter under her cozy quilt.
286. Just finished Jackson's "John Deere" quilt top about 3 hours ago. I rode my bike next door to my mom's house and hung it on her clothesline so I could take a picture. I can't wait to quilt it. (Zeke picked out the fabric for his John Deere quilt while he was here...)
287. Yesterday our interim pastor
Bro. Joel Southerland
, brought a message from
Job 1:20-22
and I loved this quote..."In the storms of life, our REACTION determines our RECOVERY." I want my reactions to be right, Spirit-filled, and for His glory. It was a great message.
Count your blessings,
name them one by one...
and it will surprise you
what the Lord has done!