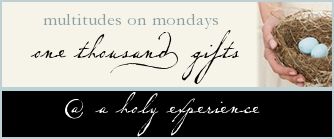 As I come to yet another Multitude Monday, my heart is overflowing with His goodness as I continue to count blessings, grace gifts. Including pictures makes this more than a simple list, but I pray you'll indulge me. As you know, "a picture is worth a thousand words..." I'm working to one thousand gifts...so one thousand words in pictures sounds joyful too.
153. My dearest friend is named Lanie. We were talking in the car on the way to our quilt class last week and she quoted a line from her Mother's Day card from her husband...it sounded familiar. Can you say like-minded friends and husbands? Our husbands gave us the exact same Mother's Day Cards! What a gift to have life-long friends.
154. Lunch at Longhorns with a like-minded same-season-sister, Patsy. We have so much in common. She raised 3 sons, I raised two. One of her boys is married, both of mine are. We love the Word, we love our church, we love each other. It was such a sweet time and it was her treat...making it all the sweeter!
155. A wonderful meeting in my home with my church's Women's Ministry Leadership Team. We accomplished so much, and enjoyed some delicious chicken salad too. I made a homemade peach cobbler.
Here is my recipe!
Complete with pictures. :)
156. Zeke spent the night with me Friday and we had so much fun. He is getting older and it is getting funner (great word). We picked blueberries and worked in the garden.
157. And of course blueberries on Saturday morning call for blueberry waffles:
158. I just love this picture and had to share these sweet little hands with 4 blueberries.
159. The Instrumental worship pastor from my church, Rev. Dawson Hull attended a conference and my friend,
Rev. Travis Cottrell
was there leading in some of the sessions. I got this picture on my cell phone with a "Travis says hi" message and it made my day! 
160. This is a "Blushing Bride Hydrangea" from the Endless Summer Collection. I planted it the spring my youngest son Jonathan married his blushing bride, Erin on 06-07-08! It blooms a pale white/pink, then turns into a very pale blue. I love it!
161. This is the son of Jonathan & Erin, sweet baby Jackson. He knows so many words and understands just about everything they ask him to do...he will toddle off and do whatever it is they say or do...here he is "loving Curious George." Sweet! He has a first birthday coming up one week from tomorrow.
162. This past Friday my friend and co-worker Sharon and I attended the funeral for the brother of our mutual friend and co-worker, Brenda. It was one of the most inspirational funerals I have ever attended. Three preachers and a quartet! It was a celebration homegoing and the quartet sang a song called "If You Knew Him," by
The Perry's
that is absolutely wonderful!
163. The drive to the funeral was all backroads country and it was good for the soul. We came upon this old covered bridge. It is in Upson County, GA and is called
Auchumpkee Creek Bridge
and of course is tied to the time when the Creek Indians lived in this part of Georgia. I could have stayed there all day. Had a great time tweeting about it with my siestas!
164. This is the first daylily of 2011 from my garden. Daylilies are my favorite perennial. 
165. All the songs we sang yesterday in our morning worship were about God's holiness. "Holy Holy Holy," then a beautiful duet by Julie and Megan entitled "No Word But Holy," and then "Lord, You're Holy." The Spirit was strong and the LORD added to His church.
166. Big families! Our church hosts a monthly "visitors luncheon" where new and prospective members meet and have lunch with the pastors and their families. Three of the families there yesterday had lots of children! I mean lots! Two of them had 5 children each, and the other had six children! Hope for the future of Christian families.
167. Our church nominated a great group of folks last night to serve as our Pastor Search Team. As God calls them to your memory, will you just pray for His will to be done? We are searching for a Senior Pastor to come shepherd us, love us, and lead us. Exciting times ahead for our family of faith!
168. This is sweet baby Madie Ruth, my granddaughter, in as her momma calls it, "her girliest outfit yet." There's more to come baby girl and we can't wait!
169. Lastly...as I sign off tonight, I just want to say it is going to be 49 degrees tonight and I am loving this gift of cooler weather.
170. One more lastly, I planted green beans, squash and cucumbers in my garden this past weekend. I harvested red potatoes and onions to make room for the above veggies. The tomatoes have been planted for about 3 weeks and are growing so well with the help of my farmhand, Zeke. He was watering them for Gran Jan!
It's been a very good week and I thank you for sharing this journey of counting His gifts with me. Oh to
grace
how great a debtor daily I'm constrained to be...