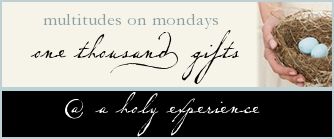 Continuing to count His gifts, all is grace...
111. Spring Break, a week away from work...what a gift.
112. A birthday lunch with my Mom and sisters - sweet times for sure.
113. Dinner with good friends in a quaint restaurant that was featured in
Southern Living Magazine
. Yesterday Cafe is known for buttermilk pie. (But my mother-in-law's buttermilk pie is better!)
114. Spending time with my daughter-in-law Erin one afternoon during spring break. She and Carrie are both such good little mommas, it blesses me so. Long answered prayers.
115. Help planting my moonflower seeds...Gran Jan's JOY!
116. New porch swing with a special spring that makes it bouncy and fun!
117. Extra time to read, one of my favorite things.
118. Signing up to take a machine quilting class with my bff Lanie! Can't wait! First class is Tuesday...
119. Attending two bridal showers back to back on Saturday and the JOY of knowing the bride of one and the groom of the other for most of their lives (the blessing of serving in one church for almost 23 years).
120. A long long visit with my mother-in-law and the chance to serve her by helping her buy groceries and then putting them away for her. She needs assistance with a walker now, so getting around takes lots of effort. It was good for me to s-l-o-w down...
121. New ferns on the front porch - a sure sign of spring for my gardening delights!
122. A crop duster flying low over the farm and bringing great JOY to Zeke (and Gran Jan and Pop too). A beautiful day full of God's blessings. (Pop & Zeke are in the picture below.)
123. A word from my son that brought about some deep personal reflection. A good thing. I love my two boys very much. Sometimes I forget they still need their mom even though they are grown MEN. It's a different season...this empty nest.
124. The first grass cutting of the season - I love the smell of a freshly mown lawn.
125. Cherry blossoms...I love Spring in the South.
126. The delight of texting back and forth one afternoon about the JOY of old hymns with my friend Beth, and we especially lingered long over "How Firm a Foundation." We had church across the miles. We are "same season sisters."
127. Avocados on my salad...love them.
128. Balancing my checkbook...quickly...the first time.
129. Being awakened by my little grandson very early one morning last week...and when I opened my eyes...we were eye-to-eye. Sweet.
Thank you for sharing in Gran Jan's JOY!